SKU: #1321
This sought-after, heirloom viola native to the Mediterranean islands of Corsica, Sardinia, and Tuscany, brings cheerful, bright, blue-purple flowers to your garden every season! Long stems give the flower center-stage high above the foliage, and the 1" bloom size make Corsican Violet a fairly large viola. Use the edible petals to garnish soft cheese or baked goods. Reseeds readily and is tolerant of heat and drought, unlike other violas. A 2003 Plant Select Winner.
Regular price
Sale price
$2.69
Unit price
per
Sale
Sold out
100 mg
(~70 seeds)
View full details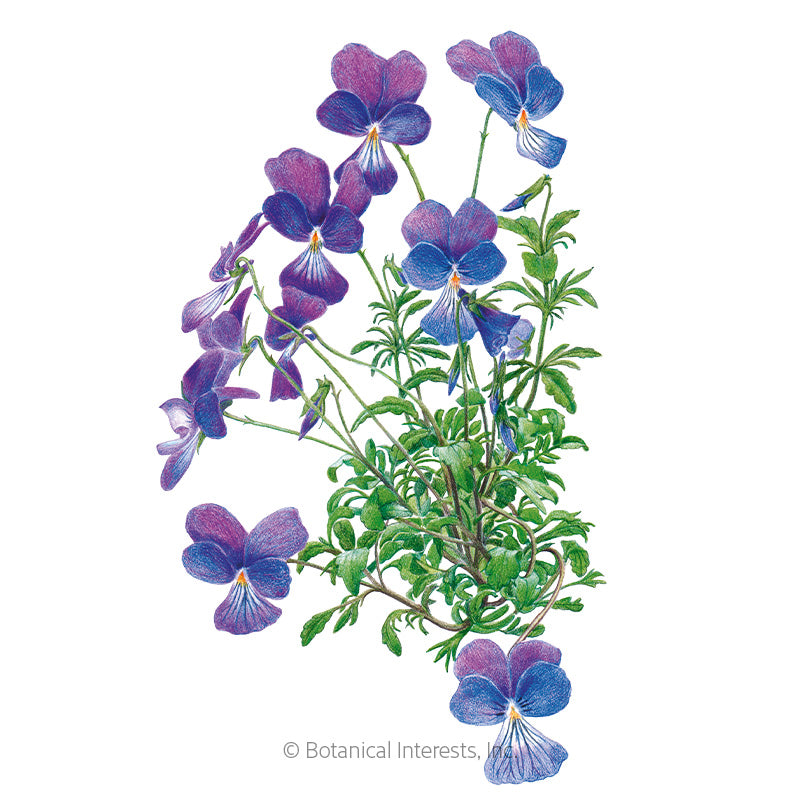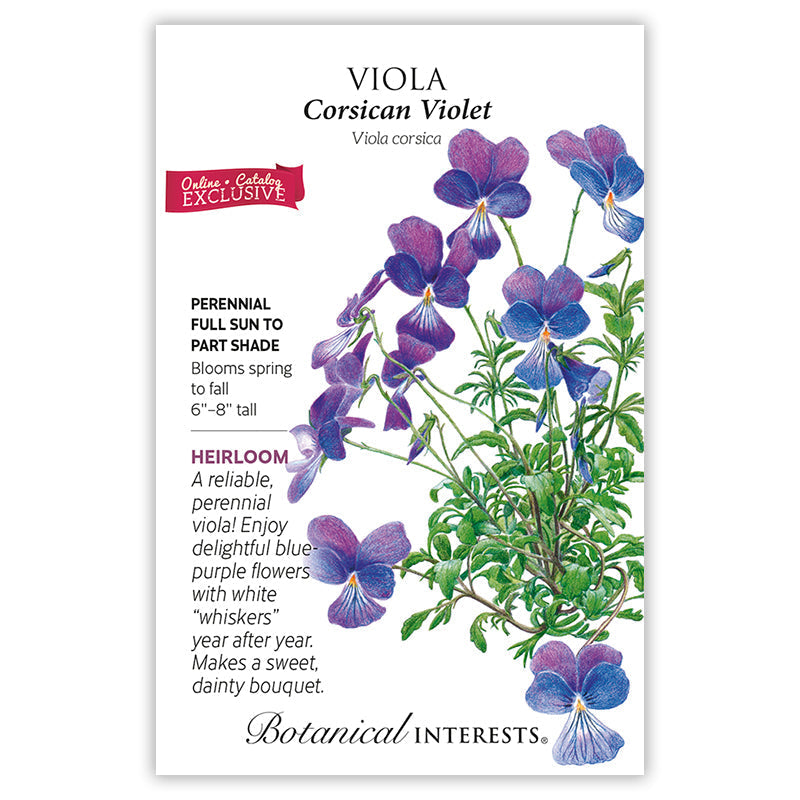 Variety Info
Sowing Info
Growing Info
Learn More
Variety Info
Family: Violaceae
Native: Southern Europe
Hardiness: Perennial in USDA zones 3–8; often grown as an annual
Exposure: Full sun to part shade
Bloom Period: Blooms spring to fall
Plant Dimensions: 6"–8" tall, 8"–12" wide
Variety Info: 1 ½"–2" blue-purple blooms with a small yellow center, surrounded by white "whiskers."
Attributes: Deer Resistant, Drought Tolerant, Edible Flower, Good for Containers, Heat Tolerant
Sowing Info
When to Sow Outside: RECOMMENDED. Cold Climates: 4 to 6 weeks before your average last frost date, or in midsummer for fall and the following spring bloom. Mild Climates: Late summer for cool–season bloom.
When to Start Inside: 8 to 10 weeks before your average last frost date for early spring planting, and midsummer for fall planting in both mild and cold climates.
Days to Emerge: 7–20 days
Seed Depth: ⅛"
Seed Spacing: A group of 3 seeds every 4"–6"
Thinning: When ½"–1" tall, thin to 1 every 4"–6"
Growing Info
Harvesting: For longest vase life, harvest flowers in the morning, just as flower buds begin to open.