Packet Points
What's better than free seeds?
Here's how it works.
Log in to your account with your username and password. Need an account? Register here.
Make an online purchase and earn 1 point for every $5 spent.
Follow the balance in your account.
Redeem Packet Points for free packets throughout the Botanical Interests website.
Start earning Packet Points today!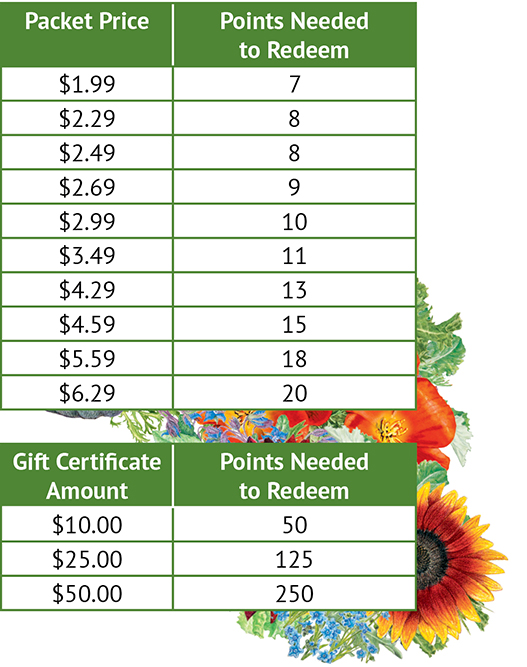 Frequently Asked Questions
How do I earn Packet Points?
Every customer who creates a Botanical Interests' account is eligible. Simply sign in to your account, place an order on botanicalinterests.com, and you will automatically earn Packet Points on purchases. You must be logged on to your account to redeem Packet Points. Don't have a registered account? Get a free account now by clicking here.
Only online purchases made with a credit card are eligible for earning Packet Points. Orders placed with a gift certificate do not earn points.
How do I redeem Packet Points?
You must be logged on to your account to view and to redeem Packet Points. When you add eligible products to your cart you will have the choice of paying for them normally, or using points. You will also see your points balance. Packet Points can only be redeemed for online orders, not for mail-in or call-in orders.
Do my Packet Points expire?
Yes, Packet Points expire one year from the date you earn them.
I placed an order earlier, but didn't have a registered account or checked out as a guest. Can I still get my Packet Points?
Yes, if you create a registered account now using the same e-mail address as your order, we can add points to your account if you contact us. Please allow 5 business days to see Packet Points reflected in your account. However, no Packet Points will be awarded for orders placed prior to the official launch of the program on February 22, 2021.
Can I combine points and credit card to pay for an order or a specific item?
You can pay for your order with a combination of Packet Points and a credit card. You can even earn additional points on the part of the purchase you pay with your credit card. However, you must have enough Packet Points to cover an item completely in order to add that item to your shopping cart.
Can I purchase gift certificates with my Packet Points?
Yes, Packet Points can be redeemed for the purchase of gift certificates. You can also earn points when purchasing gift certificates online.
Can I earn points when I pay for an order with a gift certificate?
No, Packet Points are earned on only the portion of your order paid with a credit card.
Do I earn Packet Points for shipping charges? Can I use Packet Points to pay for shipping?
Packet Points are only for seed packets and gift certificates. They are not earned with, nor can they be redeemed for, collections, gift sets, tools, products, or shipping charges.
I know I have Packet Points, but it won't let me select the button next to the 'points price.'
Next to the points price of each item you will see how many available points you have. If you don't have enough to purchase the item, you cannot select the points button. If it says you have none available (Avail: 0) and you believe that you should have available points, ensure that you are logged in to your account. Also, check to see if you already have items in your shopping cart that are using up your point balance.
I have items in my shopping cart; how do I pay for them using my Packet Points?
Items must be identified as being purchased with Packet Points at the time they are added to your cart. If items are already in your shopping cart, you will need to remove them, and re-add them to your cart while selecting the button next to the 'points price.'
I have a promo code/offer for free shipping (or free item, or other promotion) if I spend a certain amount of money. I am getting items with points. Does that count?
Coupons and special offers for spending a particular dollar amount are based on the items applied to your credit card. Packet Points redeemed do not contribute to that total. Promotion discounts will not apply to Packet Point items and will deduct from only the items you will pay for by credit card.
How many Packet Points do I have available?
You can check your balance at any time by going to "My Account" and clicking "Packet Points."
Can I give my Packet Points to someone else?
No. Packet Points cannot be transferred or combined.
Okay, so what is the fine print?
Botanical Interests reserves the right to adjust Packet Points balances due to returns, cancellation, declined credit card charge, violation of terms, or any other reason that results in a change in the amount of your purchase. The earning and redeeming of Packet Points is subject to verification. Packet Points are available to earn and redeem only on botanicalinterests.com at advertised prices. Wholesalers are exempt. We reserve the right to make changes to the terms and conditions of this program at any time without notice, including reduction of expiration period, and termination of the program. Packet Points are not transferable. Packet Points are not redeemable for cash. Void where prohibited or restricted.