SKU: #0578
'Black Kat' is sure to make a statement at your next Halloween party! These dramatic, dark-green pumpkins will get darker as they mature until they're almost black. Deeply ribbed and weighing only 1–2 pounds when fully grown, these personal-sized pumpkins look impressive grouped together or interspersed among other pumpkins, gourds, and ornamentals. The striking, bright orange flesh provides a beautiful contrast, and is also edible. Resistant against powdery mildew.

Regular price
Sale price
$4.29
Unit price
per
Sale
Sold out
(~12 seeds)
View full details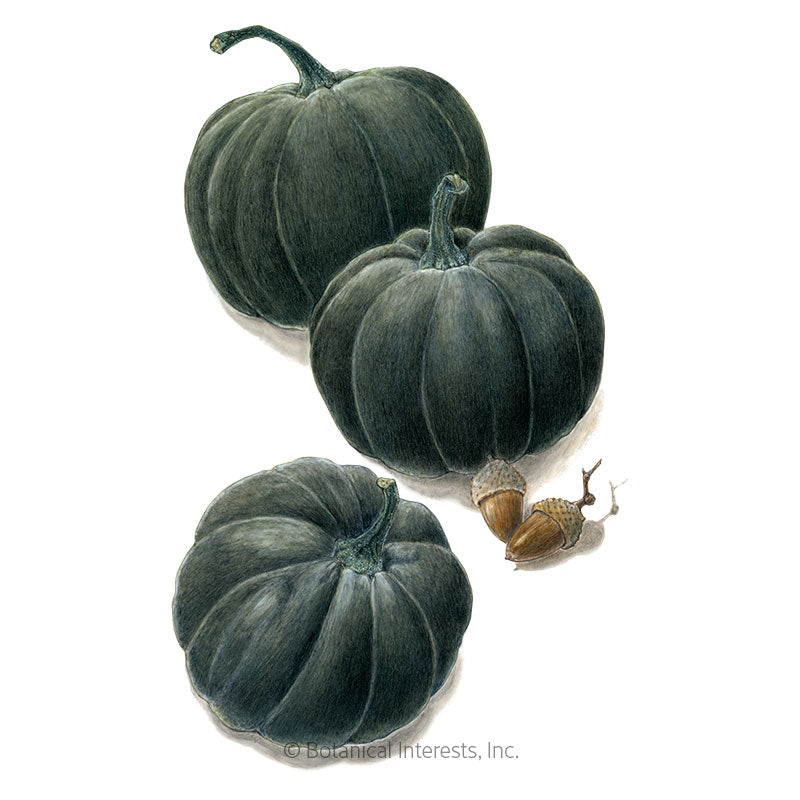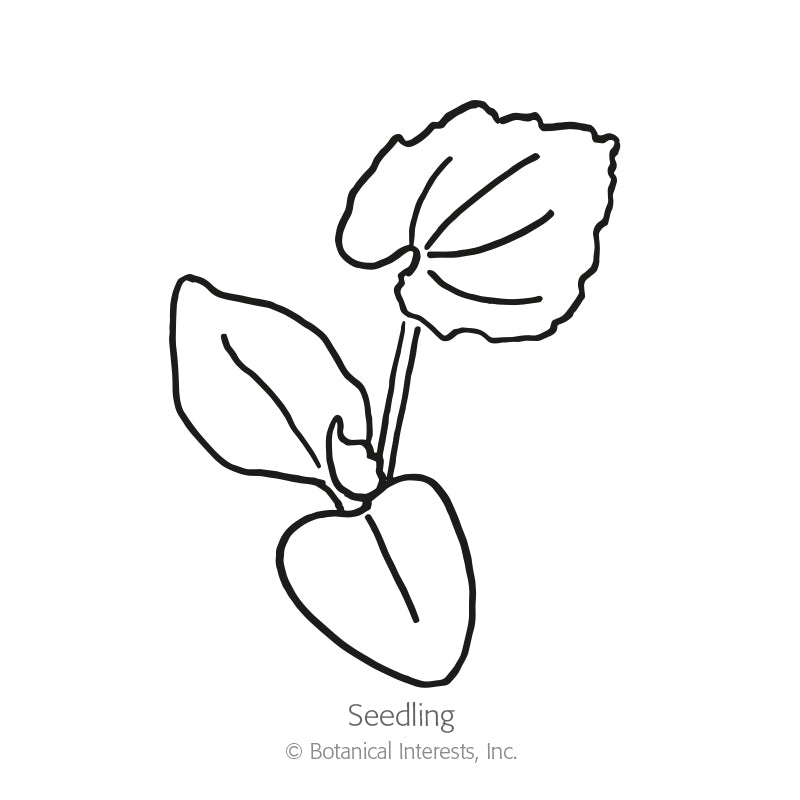 Variety Info
Sowing Info
Growing Info
Learn More
Variety Info
Days to Maturity: 75 ‒ 80 days
Family: Cucurbitaceae, Gourd family, includes watermelon, gourds, melons, pumpkins, cucumbers, and squash.
Native: Southern United States and Mexico
Hardiness: Frost-sensitive annual
Exposure: Full sun.
Plant Dimensions: 6'–8' vines
Variety Info: 3 ½" –4 ½" diameter fruits weighing 1–2 pounds. Deep green, almost black skin with an orange interior.
Sowing Info
When to Sow Outside: RECOMMENDED. 2 to 4 weeks after your average last frost date, and when soil temperature is 70°‒90°F.
When to Start Inside: Not recommended except in very short growing seasons, 2 to 4 weeks before your average last frost date. Sow in biodegradable pots that can be planted directly in the ground. Transplant after your average last frost date, when weather is warm and settled.
Days to Emerge: 7 – 14 days
Seed Depth: 1"
Seed Spacing: 2 – 3 seeds per mound
Thinning: When several leaves, thin to 1 ‒ 2 per mound
Growing Info
Harvesting: Harvest pumpkins before the first fall frost, and when foliage has begun to dry out. Cut stem with a knife, leaving 2" of stem on the pumpkin. Do not hold the pumpkin by the stem; if stem attachment gets broken, or any part of the pumpkin bruises, the pumpkin may rot. Brush off any dirt or leaves. Ideally, cure at 80°–85°F and 80‒85% humidity or a warm, sunny spot with good air circulation for 1 to 2 weeks before eating or storage. Do not allow harvested fruit to get wet.
Special Care: "Black weed barrier fabric or sheeting helps to warm the soil, keep down weeds, and retain moisture. Lay a sheet of the barrier fabric or sheeting over the soil in your planting area. Cut 4""–6"" diameter holes in it, 4'–5' apart, and sow the seeds within the cut holes. The best way to irrigate when using this fabric or sheeting is with a soaker hose or drip irrigation underneath. Remove the fabric or sheeting at the end of the growing season. Pumpkins are monoecious (having both pollen-producing flowers, and flowers that are able to produce fruit only when pollinated). Pollen-producing flowers appear earlier in the season, in theory, to attract bees to the area. Sowing pollinator-attracting plants near pumpkins can assist in proper pollination, resulting in a bigger harvest and well-shaped fruit. Floating row covers are highly recommended for pumpkin plants during the early days of their lives to protect the young plants from squash vine borer and cucumber beetles. Hand-pick and destroy any squash bugs or cucumber beetles. Remove covers when plants begin flowering. Another method to avoid vine borers is to cover the base of the stems near the ground with mulch, foil, or fabric material, as the base of the stem is where insect eggs are laid. Pumpkin plants are also susceptible to fungal disease, so make sure plants have ample space for air circulation. To form a flat bottom on your pumpkin, gently set it upright if it emerges growing on its side. Keep pumpkin patch well-weeded."